Nicola was born with Bardet Biedl Syndrome, but the condition did not immediately show itself.
Nicola's sight loss was gradual. She started wearing glasses when she was five years old, and later developed night blindness. It was only when she started driving lessons that she realised the extent to which her sight was deteriorating. Nicola went on to become a nursery teacher and it was whilst she was working in a nursery that she was officially diagnosed with her condition.
"It's hard being able to do the job I love and then not being able to do it," she said.
"I also used to love to do things such as reading, but then books became blurry to me."
Bardet Biedl Syndrome is a genetic condition and can impact multiple body systems. It is extremely rare, with only about 1/100,000 people affected by it. Due to the lack of knowledge surrounding Nicola's condition during her diagnosis she had to deal with a lot of uncertainty and not knowing whether it was going to get worse.
Nicola's life plan was forced to change due to her sight loss, but she was able to adapt and amend her goals.
She enrolled in a Business Administration course at the Royal National College for the Blind in Hereford. At the RNC, Nicola met her future husband, Kevin, and her new path began.
When they were living in Hereford, Nicola and Kevin were able to enjoy many accessible events and activities for their age demographic due to the town's large visually impaired student population. After finishing their schooling in the early 2000s, the couple moved to Tackley village in Oxfordshire. In Tackley, the visually impaired population was of a much older demographic. Nicola and Kevin therefore had a hard time finding events and activities that interested them. This led to them starting their own social group called VIBNO, which stands for 'Visually Impaired But Not Old'.
Nicola enjoys many different hobbies: going to local museum touch tours, swimming with a sighted guide, audiobooks, and going to the theatre and to concerts. "Audio descriptions [at concerts and theatres] open up a new side and my mum doesn't have to whisper to me about what's happening when we go," said Nicola. She is often accompanied by her guide dog, Kimber, who has given Nicola more confidence and independence.
Nicola first heard about MyVision through the VI team.
Nicola remembers going to one particular MyVision event that made a big difference to her life. She attended a Tech Training session in which we went over smartphones. Nicola had used a Nokia phone for a long time and was very hesitant about smartphones. "I thought, it's a flat screen and has no buttons. How am I ever going to be able to use that?" said Nicola.
The session focused on all the assistive technology through which smartphones can be operated. "At the end of the session, I decided I'm getting one of those now," said Nicola.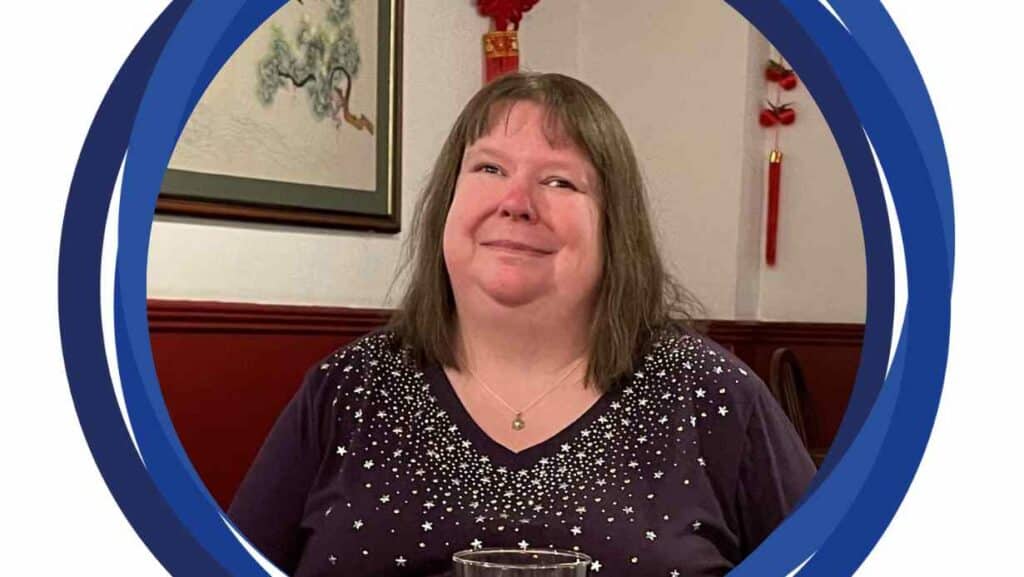 "MyVision is an important local support network."
"It's nice to have somewhere local where you can meet people and receive support. MyVision has numerous staff members who have visual impairments. It's nice to know that the people there understand you and can help if you have a problem."
"MyVision is a really good starting place for visually impaired people to find local support, tap into resources, and to find out about things that could provide support."
At MyVision we can provide support in a variety of ways. We provide counselling sessions and befriending services if you would like someone to talk to about your sight loss condition. We have numerous social groups throughout the county if you would like to meet other visually impaired people. If you need support with technology or would like to find out what kinds of visual aids are available, we also provide tech training.
To find out more about VIBNO, you can email Nicola at flashnp@aol.com.
If you would like to share your story, get in touch at info@MyVision.org.uk or 01865 725595.