Jamie, our Technology and Equipment Officer, joined the MyVision team in the spring of 2022. He brought a wealth of knowledge regarding all sorts of technology as well as lived experience of visual impairment. In 2020, Jamie was diagnosed with Leber Optic Neuropathy.
"My visual impairment impacted my life completely. Before I lost my sight, I was going down a very different sort of route in life to now," said Jamie.
"Losing my sight was a bit of a shock obviously. I had a moment where I woke up, rubbed my eyes and thought, 'why is everything a bit off?' Then it got worse and worse over the weeks. When I went to an appointment at Specsavers, I was told that I need to be booked for an emergency appointment because I have either MS or bleeding in my brain. I spent the whole night worrying and when I got to the hospital, they couldn't tell me what it was."
Jamie spent the next two weeks at the hospital. Eventually, after the doctors performed every test imaginable, they determined that he had Leber Optic Neuropathy. "After that everything changed, and eventually coming to terms with my sight gave me the drive to fix other things in my life, as well as finding a direction," said Jamie.
Learning to handle Visual Impairment and OCD simultaneously.
One thing in particular that Jamie was driven to address was his OCD (which he has had since his youth) because OCD is very stimulus based. A lot of it can be based off light sensitivity, as well as seeing and looking at things.
"My sight is like opening your eyes under water. Everything is still there but it's all very blurry and static, and because of that everything looks perfect. I can't see dust or litter. But then some things look dirtier because of that staticky effect. In turn my OCD doesn't rely on my sight for when it's triggered, sometimes it's random and sometimes it's not. This is one of the reasons that I was compelled to sort it out."
"A majority of my OCD is 'check based' which means doing things such as, turning lights off a couple times, walking in and out of a building a few times. Prior to my sight loss, that was easy to do discretely. If I was at a restaurant and an OCD check came around, I would text a friend and ask them to call me. I would then leave and proceed to come in and out of the restaurant a few times."
After losing his sight, Jamie could no longer mask his OCD as easily. In a similar restaurant setting he couldn't contact a friend discreetly because he now needed to either call or use VoiceOver. Additionally, he couldn't see his surroundings as easily which made the checks even more difficult to do in social settings.
"I had to be more upfront about it," said Jamie, "It became more unpredictable, harder to mask and more frustrating. I moved out of my parents' house, I was now working, and this was taking a lot of time. Instead of taking 15 minutes to get ready, it would take 45 minutes because I would need to check everything. Plus, I couldn't really see much of what I would check."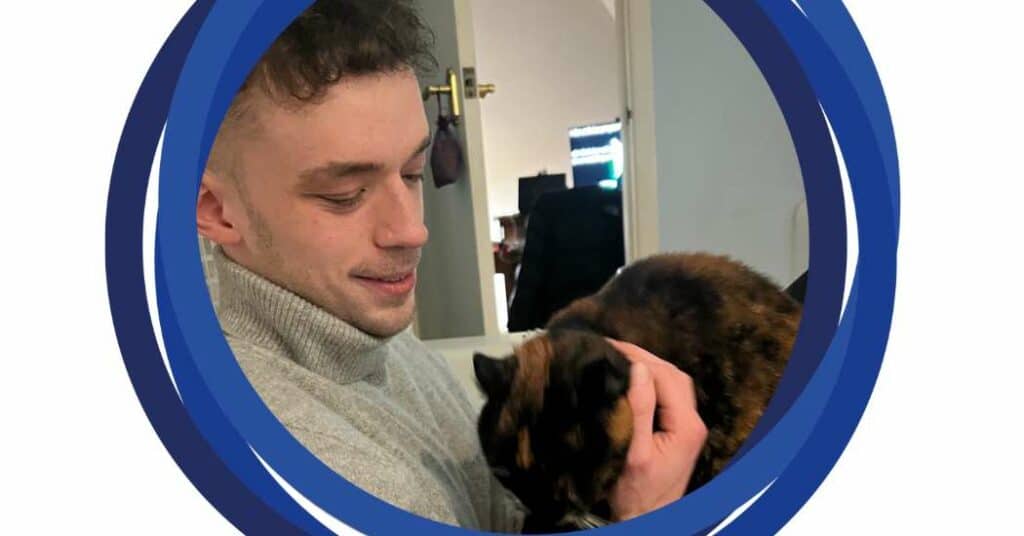 Touch and hearing became more prominent for Jamie.
"My OCD changed in my life. When I was very young it was more of a germ thing, then it became a 'if I did this, something bad would happen' thing, then it turned into what it is now and also doing everything in pairs. I was often looking at things twice but when I lost my vision it became more touch based. If I touch my phone, I then must touch it again in the same place. That was a difficult one to deal with. It was a whole new aspect of OCD that was happening when I had a lot of new things in life." Jamie addressed his OCD and the difficulties it was causing him by talking to our counsellor, Jill.
"Jill [one of our counsellors] encouraged me to seek specialised therapy. I don't think I'd be in the position I am now without Jill."
Jamie's first interaction with MyVision came when he was still getting accustomed to his sight loss condition. He called our office and had a discussion with our CEO, Mark, that focused on VoiceOver. Sometime later when Jamie was looking for work, he came upon a MyVision job posting for a 'Resource Centre Assistant.'
Jamie got the job, but his role changed quickly from administrative work to working with clients with a strong focus on technology. "I was always proficient in using technology but before [working at MyVision] I wouldn't have called myself a tech geek … Seeing the benefit of assistive tech and working with clients as it became more relevant to my role really sparked my interest in it, then eventually, I drifted further and further into the tech with my role."
Outside of work, Jamie is an avid reader and gym goer, and he hasn't let his sight loss stop him from his hobbies because he has approached his condition in a very pragmatic manner. "It's not that you can no longer do things, it's that you need new ways to do them. Once you accept that maybe you can't do something the way you know, you just need to find a new way to do it again," he said.
"It's something I try to tell my clients; there's nothing we can't help you do, maybe apart from being a race car driver (but even then, there's courses for that). I'm a firm believer there's nothing you can't do; you just have to adapt the way you do it."
We provide free counselling sessions over the telephone or in-person. Our service is unique as our counsellors have personal experience of visual impairment, meaning they are sensitive to the concerns associated with sight loss, if you would like to find out more, follow the link – Counselling – MyVision Oxfordshire